We have a new interview series! It is called "Interviewing Jimomin graduates working in Japan." In this series, we will conduct interviews with foreigners who used our service and found employment; AKA jimomin graduates. They will talk in detail about their previous job, their new job, and their impressions using jimomin. Just like the interview log, we hope you can use this as a reference when looking for a job in Japan or using jimomin!
For our first article for this series, we interviewed Wong HiuYu from Hong Kong! She registered to jimomin.work a few months ago and joined a company in the Hokuriku area this spring.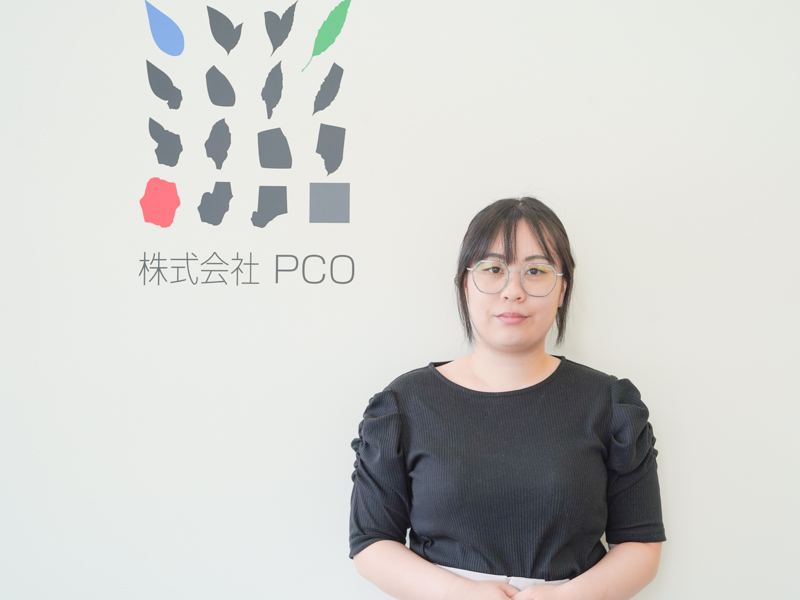 | Name | Wong HiuYu |
| --- | --- |
| Nationality | Hong Kong |
| Japanese Level | N1 |
| Language | Chinese, English |
| How long have you lived in Japan? | 6 years |
| How long have you used jimomin.work? | Less than a year |
| What kinds of services have you used through jimomin.work? | Career Counselling, Job offer, Sansha-mendan |
Career Profile
| Previous Company Industry | Hotel Industry |
| --- | --- |
| Current Company | PCO Co.,Ltd |
| Current Company Industry | MICE Industry |
| Job Position | Convention Team - Back Office |
| VISA type | Engineer/Specialist in Humanities/International Services |
Hi, Wong-san. Thank you for being here today. I am Aisha, I will be interviewing you today, pleased to meet you!
Nice to meet you too!
So to begin with, could you tell me what made you come to Japan?
Initially I came to Japan because of my father's work. I went to a Japanese language school and then to a vocational school.
Could you tell me how you started working in Japan?
I had an experience of studying abroad and had a longing to live aboard. I believe that working overseas would further broaden my horizons. After that, my desire to work overseas gradually grew stronger. After studying at a Japanese Language School and a professional training college, I decided to continue working in Japan.
Did you find any difficulties when job hunting in Japan?
Job hunting in Japan is quite different from abroad. In Japan, almost a year is needed to prepare and it is recommended to do an internship when you are a student. I was not aware of these procedures. Additionally, back in Hong Kong, there are not many interviews; compared to Japan where 2-3 interviews are normal. I also struggled in Japanese as daily communication is different from what you study in books.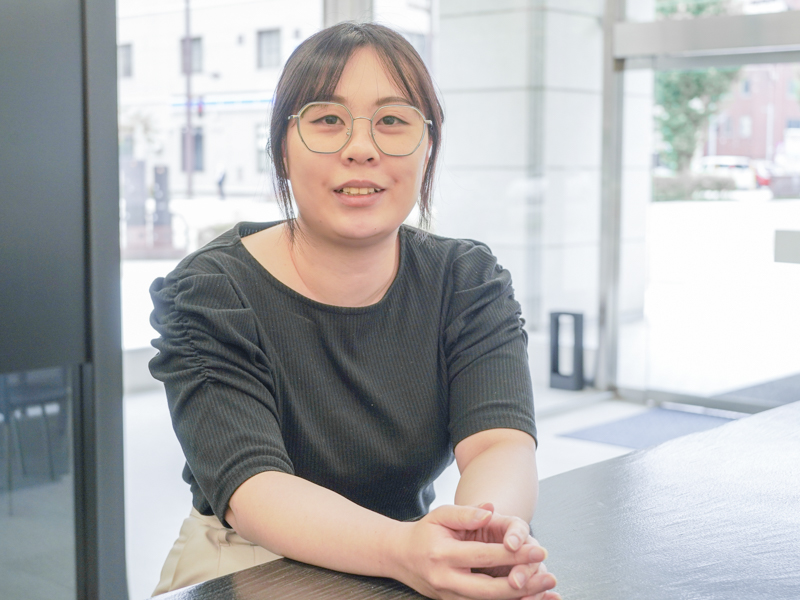 You changed from working in a hotel to a convention and planning industry. Can you tell me why?
Since I majored in Hotel/Tourism, I got a job at a ryokan in Japan. After working for around 2 years, I wanted a career change as I was interested in working in companies which were affiliated with the MICE (Meetings, Incentive Travel, Conventions, Exhibition/Events) but it was difficult to get a job. I researched about it during my bachelors and after graduating I worked at a MICE affiliated company in Hong Kong. It has been one of my goals as I wanted to work in a job which would connect countries. When I was working at the ryokan, I found out about jimomin.work on Instagram. When I found out that PCO was a member of MICE, I wanted to apply immediately.
How is your current job; are there any differences from the previous one?
My previous job was in the hospitality industry, which differs in may ways from my current job. Working hours changed as the ryokan was a shift system so sometimes I had to work for longer hours. In my current job, I am able to do what I have been wanting to do.
As for my job description, it includes creating special websites for conferences and sending email inquiries to attendees as well as visiting on-site events.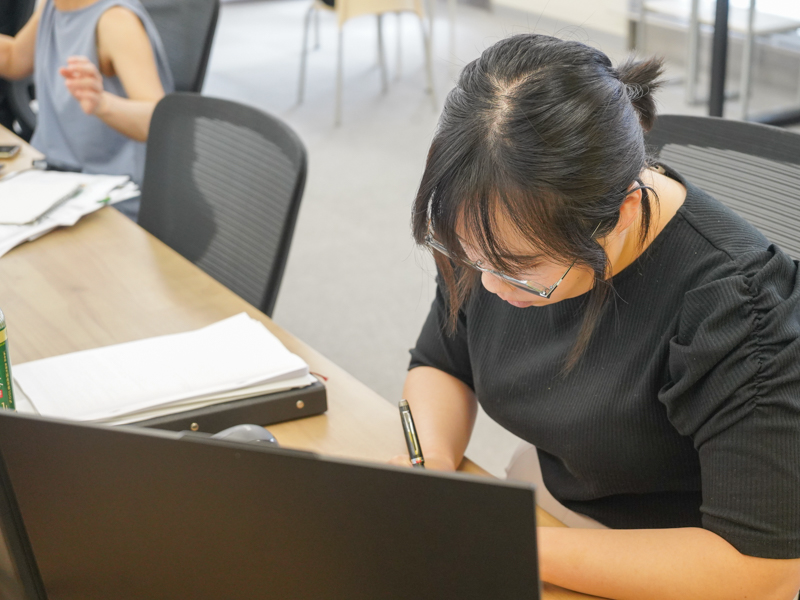 What are your future goals?
I want to be a coordinator for international meetings. For that, I need to improve my Japanese language skills: therefore, I need to go to Japanese classes.
Do you have any advice for foreigners working in Japan?
I would say, improve your Japanese language. Even if you have a N1 certificate, you might be rejected from companies during your job hunting. This is because what you study in the textbook might be different from your actual daily interaction. So, I would suggest attending Japanese online classes as well as doing writing essays exercise in Japanese.
Conclusion
This time, we interviewed Wong-san, who took on the challenge of changing jobs from the lodging industry to a global company that manages international conferences! I think it's wonderful to work hard every day to improve your Japanese while doing a job that is completely different from your previous job.
If you want to have a career change, but are not able to take the first step, please consult us, jimomin!
From Wong-san! Reasons she used jimon.work!
<Reason>
When I was thinking about changing jobs, I saw an advertisement for jimomin.work on Instagram which said it would help foreigners find employment, so I registered. Immediately after registering, I received an email about career counselling, and when I told them what kind of job I wanted, only jimomin.work introduced me to a MICE-related company which was not been introduced to by other recruiting sites.
<What kind of support?>
I wasn't very confident in my Japanese, but compared to other companies' sites, the staff at jimomin.work were very supportive.I practised interviews with them three times, and they taught me business Japanese and how to answer during an interview. In addition, when the interviewer asked questions about subtle nuances of Japanese that I didn't understand, I would ask them and they would advise me on how to answer it. It was reassuring to have a "Sansha-mendan" in which one of the jimomin.work staff would also be there. There was no other place that could do this for me, so I decided to do my best in job hunting using jimomin.work.